UPR3 Series Vertical Fuse Switch
Product Detail
Product Tags
UPR3 series vertical fuse switch can be operated with load,upper and lower in coming wire and out going wire are convenient to be exchanged.Conjoined type can be a three-phase closed off simultaneously, Operation safely. while fuse installed in the handle and it can be used as a contact blade directly.
The current grade is 250A-630A,In-line fuse type isolating switch is integrated with initiating current transformer,it also can be mounted the fuse monitor.
The product not only can break with single phase,but also can break with three phase synchronously,in addition,
It can save large space when the complete product are installed for it,so it is widely used for importing box type transformer substation Integrating of current transformer and fuse switch initiated domestically
With knife-edge entry and arc extinguishing equipment, it is safe for operation.
The isolating knife blade, full- range protection and semiconductor protection fusible core are optional
Capacity of operating with load reaches l.3 times of rated current.
Type of Fuse Switch
UPR2(3)-250
UPR2(3)--400
UPR2(3)--630
Ue
415,500,690V
Ith
250A
400A
630A
Frequency
50/60Hz
50/60Hz
50/60Hz
UI
1000V
1000V
1000V
Uimp
10KV
10KV
l0KV
Application category
415V
500V
690V
415V
500V
690V
415V
500V
690V
AC23B
AC22B
AC21B
AC23B
AC22B
AC21B
AC23B
AC22B
AC21B
Degree Of Protection
IP30
IP30
IP30
Fuse Size
1
2
3
Ue
415V
500V
690V
415V
500V
690V
415V
500V
690V
le
250A
250A
250A
400A
400A
350A
630A
630A
500A
Wire Specifications
120mm2
240mm2
300mm2
General Connection Mode
Screw&Cable lug
Screw&Cable lug
Screw&Cable lug
The Special Connection Mode
V-clamp
lnstallation of Busbar
Punched rectangle busbar
Unpunched rectangle busbar
0ther
Fixed Way
Screw
Hook
0ther custorn accessories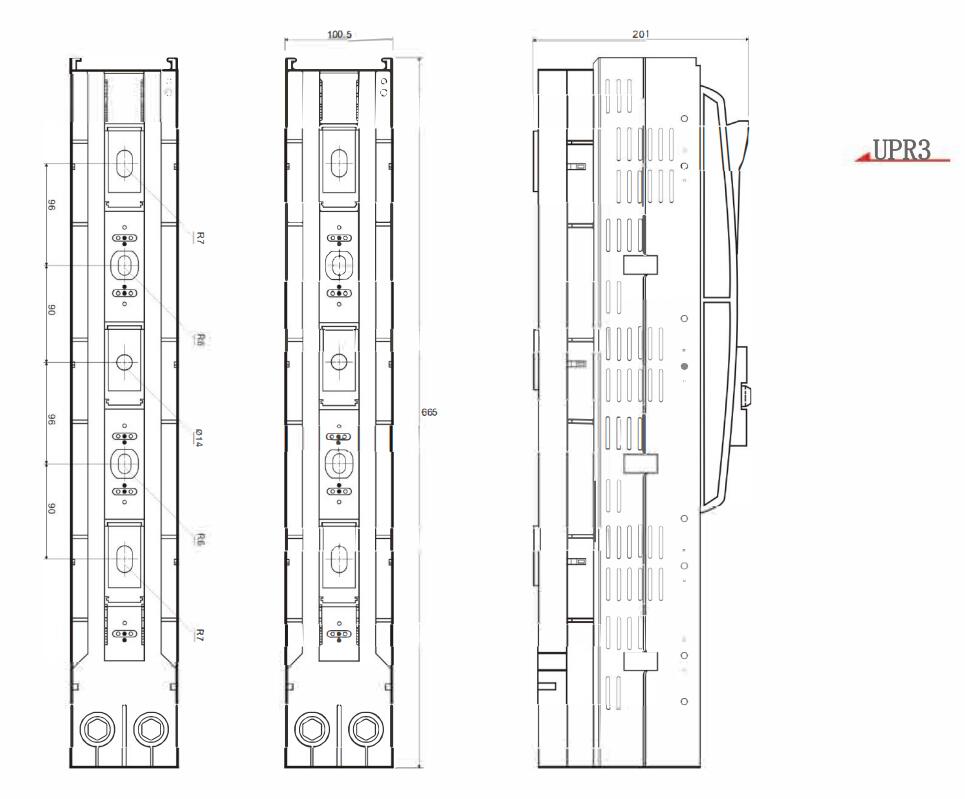 ---
---